You can check the estimated shipping time for your country on this page. When you order at Fatdaddy, we ship it straight to your door. We use DHL, UPS or PostNL depending on the order and your delivery address.
---
Country specific updates:
🇳🇱 Netherlands
No delays.

🇧🇪 Belgium
No delays.

🇩🇪 Germany
No delays.

🇫🇷 France
No delays.

🇪🇺 Rest of Europe
Depending on your local post office, delivery can be slightly delayed.
🇬🇧 United Kingdom
We continue to ship to the UK after Brexit. Be aware there can be unexpected delays due to both Brexit and action taken by border control.
🇺🇸 United States & Canada
Delivery is delayed up to 2 weeks due to irregular air freight and custom delays. We are doing our best to ship out as fast as possible.

---
Shipping
Shipping estimates.
We ship everyday, please check the product page for an estimate for each item. We are slowly adding more items to daily shipping.
Our warehouses.
We ship from our warehouses in Amsterdam, Germany, Spain and Denmark. To every country within mainland Europe and certain countries outside Europe.
No batteries in planes.
Islands and far away places like the United States can only order accessories, but not vehicles containing batteries. Don't hate us for it, cargo plane regulations.

Tracking.
When your order goes out, you'll receive an email with a tracking number and it will show up in your dashboard under My Account > Orders. You can use this to follow your order's journey to your door.
Our partners.
We work with several international shipping partners like DHL and UPS to get your order to you as soon as possible, but delivery times vary depending on where you order from and real world situations.
Ship it yourself
We simply can not ship everywhere. That's when you can select 'Ship it yourself". The gameplan is simple, you arrage a pickup and need to manage the whole shipping process yourself. This is free of charge but we do not accept returns.
---
Advice
Keep track.
Fatdaddy is not your usual webshop. We ship pretty bigand heavy packages, we recommend you keep eye on your tracking code to see when you can expect your delivery.
Holidays.
Please do not go on holiday for extended periods of time if you are expecting an order from us. If you are not able to pick up your package in 2 weeks your order will ship back to our warehouse, creating extra costs.
Not at home
If you know you are not going to be home during delivery please contact the shipping agent and let them know. Most of the shipping agents we work with have an online portal where you can divert a shipment. Please be aware that we only ship for free once.
Damages.
Even with all precaution on packaging, orders can sometimes arrive a litte roughed up depending on the journey via shipping partners. If your order arrives damaged, please take a few photos of the box and products and e-mail us on info@ridefatdaddy.com do not use the product.
VAT
We pay all duties to get the product into the EU and into your EU country. This means that if your country is part of the free trading EU you will not be charged with extra's or import. If you want to order without VAT you can sign up and order as a business.
Shipping
You can find your trackingcode by going to your Orders dashboard and clicking on the specific order. The UPS codes will be under Shipment Tracking Details. See the picture below.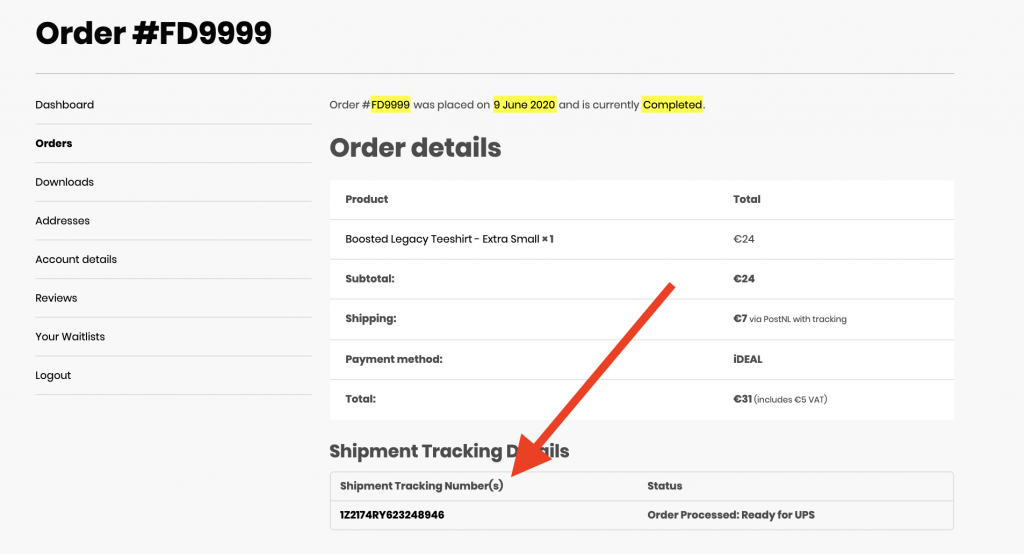 Packages are shipped every Tuesday from our warehouse. See how long it takes to deliver to your country here.
If you did receive a track & trace code, please contact support with your order number. You can also login to your account and see the tracking code under My Orders after you log in.
No problem. If you're not completely in love, let us know and send it back to us. We do have some rules on returns. For more details, check out our handy Returns & exchanges page.
You certainly can! Just select "Pick up in Fatdaddy store" at checkout and choose the most convenient store location for you. You'll receive an email as soon as your order is ready to pick up – just remember to bring your ID, so we know it's you.

Since we are a EU registered company we pay all import and VAT duties for you in advance. This only applies to country's within the EU.

Buying something online with Fatdaddy should be just as hassle-free as possible. Enter your address in your cart, or at checkout to calculate the shipping costs.
You can combined multiple items into one shipment, the price will not change and is for the total shipping lot, not per item. If we ship multiple boxes you will also receive multiple track&trace codes.

We ship to every EU and a few US locations* though direct, secure and insured shipping.
If you country is not listed during checkout you get the option to 'ship it yourself' this means that you will arrange pickup and shipment of your order from the Fatdaddy warehouse to the destination. When your order ready to be picked up you get an email with all the pickup details, the shipping agent needs to sign a document when they pick it up. This shipping methode is for your own expense, own liability and has a restock fee of 10%.
You can check the estimated shipping time for orders on this page or on the checkout page. All accessories ship within 48 hours. When your order leaves our warehouse, you'll receive an email with a tracking number – you can use this to follow your order's journey to your door or to one of our stores. We work with international shipping partners to get your order to you as soon as possible, but delivery times vary depending on where you order from.
*We ship to certain area's in the US. Want to know more about shipping to your US address send us an email.